Published: 2 October 2013
A year in the life: our guide to annual publications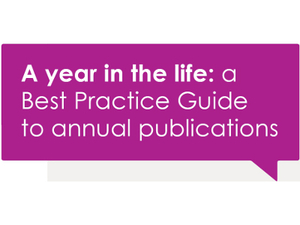 It's a time of changes and challenges for the annual report, according to Stephen Cook, editor of Third Sector magazine.
The traditional chunky, printed annual report is morphing into different formats. There are interactive online versions, DVDs, infographics. Some charities are producing a review as well as or instead of a report. Others are focusing on dedicated impact reports to show the impact they've had on different aspects of their mission throughout the year.
Faced with a burgeoning array of options and imperatives, communications professionals have a lot to consider when planning how to let others know what their charity has been up to all year. But what do charities actually need to produce each year, and what are the pros and cons of going the extra mile beyond the statutory minimum?
Prompted by CharityComms' member charities wanting to compare notes on who's doing what and how it's working out, we've produced A year in the life: a Best Practice Guide to annual publications.
The guide brings together lots of examples of different approaches to inform your deliberations, alongside testimonials, tips and advice from professionals in the sector. We've delved into formats, production, editorial and audiences. We've looked at staff resource, digital technology, issues of transparency and impact, and how annual reporting fits into your comms strategy and ultimately your organisational strategy.
The guide is free to download. While you're at it, tick the box on the download page to sign up for our fortnightly enews for regular updates on other key topics affecting charity communicators.