Right between the eyes: video content that delivers for your charity
Seminar
26 January 2017
14.00 - 17.00
CharityComms members/corporate partners: free
Non-members: £70+vat
Live broadcast: CharityComms members can join us virtually for free. See below for more information.
By 2019 video is predicted to account for 80% of consumer internet traffic. But video content is challenging – more difficult and expensive to generate than text and images, and much harder to correct or update. How can charities make the most of the emotional impact and powerful potential reach of video content?
We'll hear from Ben & Jerry's, Tommy's, Relate, RNIB and Nice and Serious on how they've made video work for them. From unconventional ways of accessing funding or expert support, to effective ways of making sure your video finds its audience. Check out the afternoon's agenda below.
This seminar is now fully booked. Please email Robyn if you'd like to be added to the waiting list. Alternatively, if you're a member, you could join our live broadcast - see below.
Live broadcast
If you're a CharityComms member and you'd love to watch the seminar but can't join us in person, then we'd love for you to join us virtually. Sign up to our Periscope broadcast now.
Sponsored by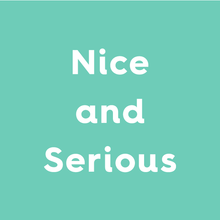 On the agenda
14.00 - 14.20
Registration
14.20 - 14.25
Welcome
14.25 - 14.55
How to fight the five evil villains of charity video production
Often we learn far more from our mistakes than our successes. In his talk, Tom will highlight some of the common 'villains' of charity video production and will give you practical tips on how to battle them. From how to uncover your story to what language not to use – Tom's talk aims to help you make videos that target the right audiences and achieve your objectives.
Tom Tapper, co-founder, Nice and Serious
14.55 - 15.20

Leveraging your network to help fund and distribute your video campaign
Tommy's #MovementsMatter film, which aims to raise awareness of the importance of fetal movements, was developed and distributed on a budget of just £5k of Tommy's money. Within 24 hours of launch the film had been viewed more than 1m times and initial results show that it's been successful in raising awareness. In her presentation, Kate will outline how they developed relationships with the right partners, including bloggers, charities, shops and media such as The Huffington Post to fund and share their film.
Kate Davies, senior digital and information manager, Tommy's

15.20 - 15.45
Refreshment break
15.45 - 16.05
Working with your storytellers to create powerful video campaigns
Talking through RNIB's successful How I See video-led campaign, we will explore how you can work with the community your charity supports to find and use the best stories for your own video campaigns. Jay will outline how to use storytelling to engage, what makes a powerful story and how to effectively tell stories through video.
Jay Paul, marketing manager, customers, RNIB
16.05 - 16.30
Video on a shoestring – what can you achieve with DIY tools?
Producing video can cost thousands of pounds and for some charities this is totally out of reach. So, what can you achieve with under £20? What can you do if you can stretch your budget to £250? Relate will outline how they produced fun and simple videos in-house to reach younger audiences. There will also be plenty of top tips for how your organisation can do the same as Emma and Tim share the key insights from their work to make low cost videos.
Emma Sullivan, digital content producer, Relate
Tim Butcher, freelance film-maker
16.30 - 17.00
How Ben & Jerry's tapped into the national mood to amplify its message
As an aspiring social justice company, Ben & Jerry's strives to use the power of business to support progressive social change. Against the backdrop of Brexit it became increasingly concerned by the divisive and polarising narrative which was gradually becoming more common place. As part of its One Sweet World campaign, it worked with Hope Not Hate to produce a video aimed at promoting and amplifying a message of unity, encouraging people to turn the tide on the rise of fear and prejudice. In this session, we'll hear about Ben & Jerry's social mission, and how working with the right partners to create topical, cultural content can help your video campaigns to work harder.
Ed Shepherd, social mission manager, Ben & Jerry's