How do you capture a diverse and growing movement within a single publication?
That's the challenge we wanted to address with Teach First's annual review.
Teach First trains and supports committed individuals to become inspirational classroom leaders in low-income communities across England and Wales.
We believe that to overcome educational inequality we need leaders working across all sectors of society to inspire a movement for change. Our community of teachers, alumni and partner organisations is central to our story – but it's growing in size and diversity, making it tricky to represent the whole movement within a single campaign or publication.
We're delighted that the result, All of Us: our 2013-14 annual review, has been shortlisted for this year's Third Sector Excellence Awards. Already for us though, a huge reward has been seeing the breadth of our community represented in print.
Broad movement, narrow brief
Our annual review for 2013-14 was designed to reflect the impact of the collaboration between all of our members and partners. All of Us uses first-hand accounts from our teachers, pupils, partners and volunteers to tell our story. It doesn't go into text-heavy or time-specific detail, but uses personal accounts and eye-catching imagery to create a dynamic and evocative publication.
We started with a tight and specific brief. Our primary audience for this publication is current and prospective supporters — aiming to engage them with our cause, demonstrate impact, recognise their contribution and inspire further support. We evaluated previous annual reviews and found that first-hand case studies and brief numerical overviews of our scale and impact were the most valued elements.
As our work expands across England and Wales, so too does our network of funders. We have therefore had increasing calls to hear more about the diverse geographical spread of our community, which led us to develop an inspiring content plan which included case studies from across the country.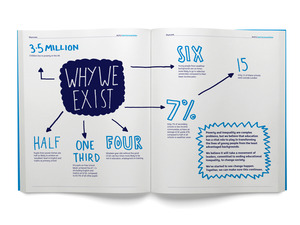 Words, pictures and sounds
Important areas of our work, such as the recruitment of teachers, improving access to higher education, or mobilising business volunteers in schools, are brought to life through first-hand accounts, ensuring that the tone of All of Us is open, friendly and humble and invites others to join us.
Working with innovative design agency Interabang, our design evokes the playfulness of school sketchbooks, using hand-drawn doodles and text to highlight the varied and vibrant personalities of our case studies and the key themes within their stories, and even including hand-drawn infographics for our financial reporting to carry the visual theme through while remaining clear and precise.
Our online annual review needed to be cutting edge too, while also fitting into our budget and recognising that many of our readers still want to see a hard copy. We therefore used expertly-produced audio stories and in-house video interviews to add value to the digital publication, further bringing our first-hand stories to life by giving a voice to our pupils and teachers.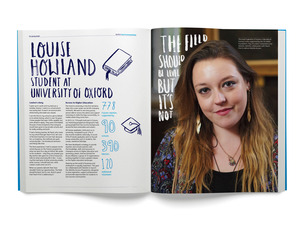 Nobody's perfect
As the final page of All of Us asserts, nobody's perfect; being part of a movement for change means always being open to feedback, innovation and a diversity of viewpoints. There are therefore naturally a few things we'd do differently next time. We didn't quite manage to represent every local area in which we work, which understandably leaves certain voices within a charity as fast-growing as ours feeling left out. We'll rectify that this year, as well as further aligning the annual review with some of our other pivotal publications such as those containing our full accounts or detailing our impact.
And yet in addition to our Third Sector nomination — our first in this category and of which we're very proud — All of Us has been a big success for us as a charity and communications team. It is a unique and innovative publication; truly representative of our brand personality which strives to be bold, real, thought-provoking and optimistic; a publication that the whole organisation can get excited about using.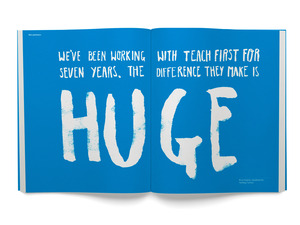 Internal response has been positive — crucial in an organisation of our size and geographic spread — with requests for printed publications up 500% this year. Employees are excited to use it whenever possible. Feedback from funders has also been encouraging; major corporate partners have described it as the best review they've seen from any organisation and requested aligned materials to share with employees and clients.
And crucially, we learned a lot in the process of putting All of Us together.
The clue's in the name: annual reviews come around at the same time every year and yet it's all too easy to forget them until you have only weeks left. We've learned to start early — as soon as the year begins — when it comes to gathering material and earmarking interesting and valuable activity for a spotlight in this kind of publication.
We also learned that a truly collaborative and representative publication is best achieved through the same kind of approach. Many of us have surely worked on annual reviews in the past which rely too heavily on one copywriter to synthesise the work of a whole organisation. It's certainly possible, but more effective (and enjoyable) to use the talents and perspectives of your colleagues to tell their own stories, and use project-management to bring these together into a consistent and articulate whole.
That was our approach, so any success or accolades garnered by the publication really are shared by all of us.