It can be challenging to present the work of an adult and children's hospice and make it relevant to such different audiences.
Keech Hospice Care is an adult and children's hospice covering Bedfordshire, Hertfordshire and Milton Keynes. For our 2014 annual report, we wanted to be braver in how we communicate, be stronger and use less jargon, especially when describing our clinical services. It was vital that staff would be inspired by the annual report and would be proud to use it. We had to present something that wasn't too corporate, looked family-friendly but not too child-like.
An animated approach
We started off with a very simple objective – to show how comprehensive and far reaching our care is; and how it is not just provided in the hospice but in the community too. Case study interviews are obviously very effective in getting across the benefits of a service, but in this instance no patient would be able to outline every element of Keech's service.
So we decided to produce an animation to work across social media to promote the report and present Keech in a clear and entertaining way. It gave us the flexibility of describing everything we do in a punchy way. Drawings from the animation formed the visual direction of the report.
https://www.youtube.com/watch?v=1loXwWmnU9c
Setting the tone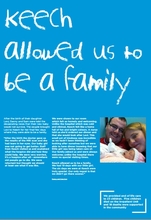 We started the animation first because we wanted it to set the tone for the annual report. We contacted Creative Connections after seeing some of its work. We had a very strict budget (£8,000 to produce the animation and the annual report), so we agreed to write the script ourselves and to keep costs as low as possible. The script was very important because the visuals would flow from it, so we had to make sure to include everything we wanted illustrated.
The child voice
We wanted to have one of our children involved in the film so that the child voice was authentic. Working with the nurses we identified Millie Davis, 10, as one of the children who would enjoy being involved in a project like this. Millie travelled with me and a nurse to a studio in London to record the script.
When we were ready to launch the report we posted the film on Facebook where it had over 3,000 views in the first 10 minutes. This was a lesson for us: it would have been far better to have the views in one place – either all on Facebook, or preferably YouTube. Unfortunately, because we didn't post on YouTube first and then post the link on Facebook, the hits were separate to the YouTube views.
Tying the annual report to the animation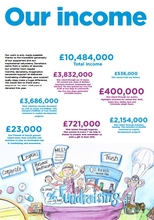 The drawings from the animation were used in the annual report. We outlined our vision and mission but in simple language and kept it brief. It was important that the report was not too heavy so rather than include support functions (HR, marketing etc) we kept it very focused on our care priorities – after all, the support functions exist to make sure we can provide care to the families we support.
The middle section of the annual report is a pull-out featuring the last frame of the animated film – a pictorial explanation of Keech and everything it does.
We decided to remove the chair/CEO overview and instead the foreword was written by Millie, which again tied in nicely with the animation.
Promoting the report
We held a launch with over 100 people. Millie and others involved in the report read out extracts to show how involved patients, nurses and families were in its production.
We issued a press release which secured coverage in all our regional papers, including an interview with Millie on BBC Three Counties radio.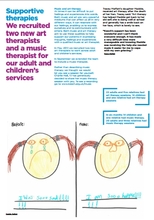 The report was mailed out to a list of supporters with a thank you letter for everything we have achieved together. We talked to teams about how they could use the report. Our care and fundraising teams were given extracts and visuals to use in their own communications.
Evaluating effectiveness
Media coverage of the animation and annual report had a reach of 150,855 across Bedfordshire and Hertfordshire, with an advertising value of £30,000.
The animation has been viewed on Facebook 6,000 times. YouTube views total 2,120.
We received over 1,000 visits to the annual report on our website. And the report has now been shortlisted for a Third Sector Excellence Award.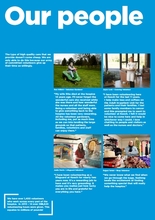 One of the objectives at the start of the project was that staff would use the annual report. We surveyed a cross section of staff to find out if they were using it and how. Of the numbers surveyed, 80% were using the report and information contained within it.
We also produced a simple list of feedback questions and asked a sample of our audiences from patients, healthcare professionals and donors to share their feedback on the report. Overwhelmingly the response was that they found it engaging, insightful and would be moved to pass it onto a friend/colleague.