At Sue Ryder, we have high brand awareness but low brand understanding. Lots of people know our shops, but few can say what we actually do as a charity (provide and campaign for incredible hospice and neurological care).
Understanding is higher in the areas around our services in England and Scotland. In places where we don't have physical services and nationally as a whole, it's a lot lower. When we launched our online community and support hub for families facing life-limiting conditions, we knew we'd have to work hard to establish ourselves.
We're very good at talking to our existing communities online but wanted to reach out beyond this. Our latest market research identified the sandwich generation – those caring for children as well as elderly parents – as one of the key audiences we need to connect with.
A positive and memorable experience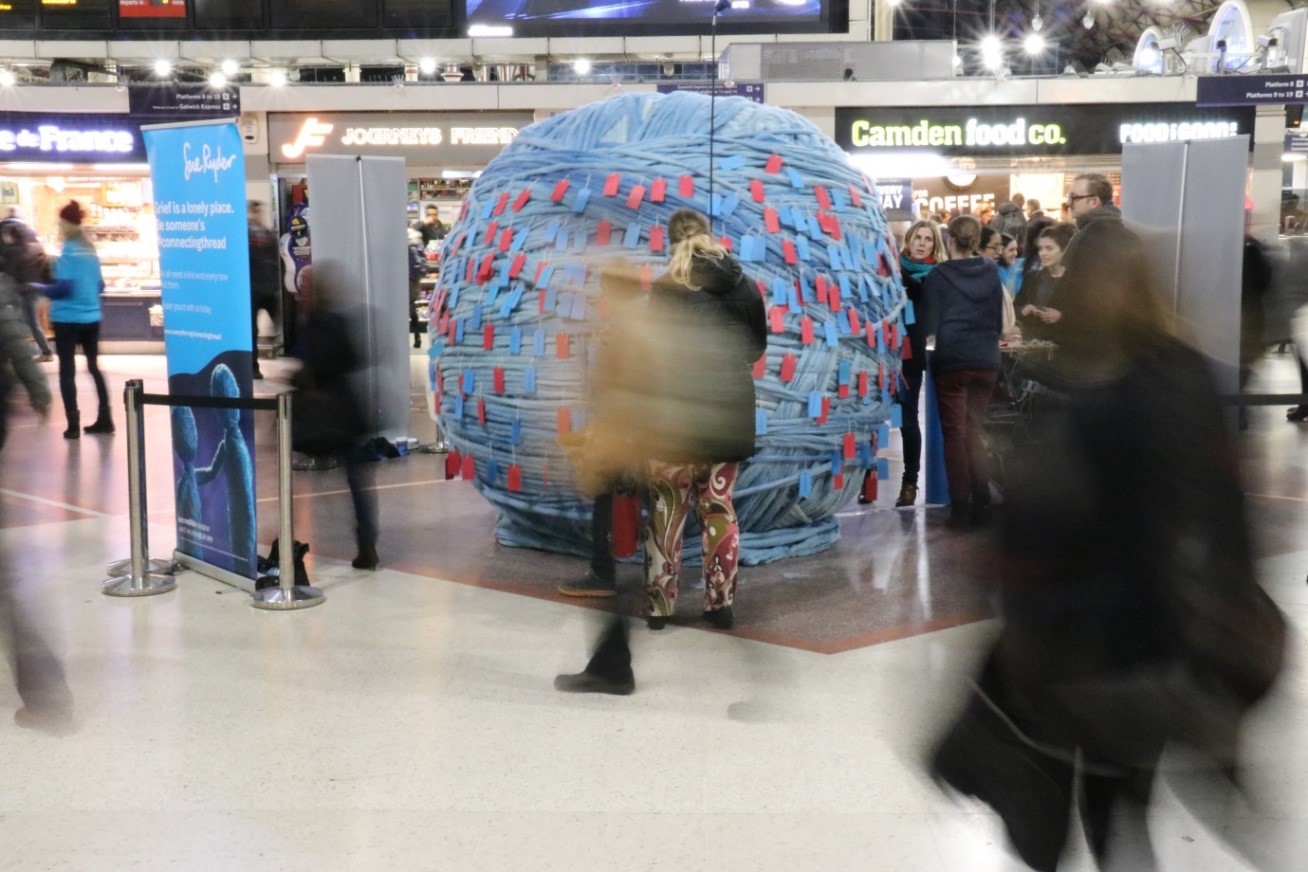 Having already launched the hub to our warm online audiences in June last year, we wanted to do something bold – to get in front of people and give them a positive and memorable experience which spoke about our brand and ethos. We wanted to remind them that if you're facing the loss of a loved one, now or in the future, Sue Ryder is here for you. Experiential marketing lent itself perfectly to this.
Commuter hubs like train stations are a great place to reach our target audience as they tend to live in the suburbs of cities, rather than in the centre. We chose London initially because its stations have higher footfall than regional stations.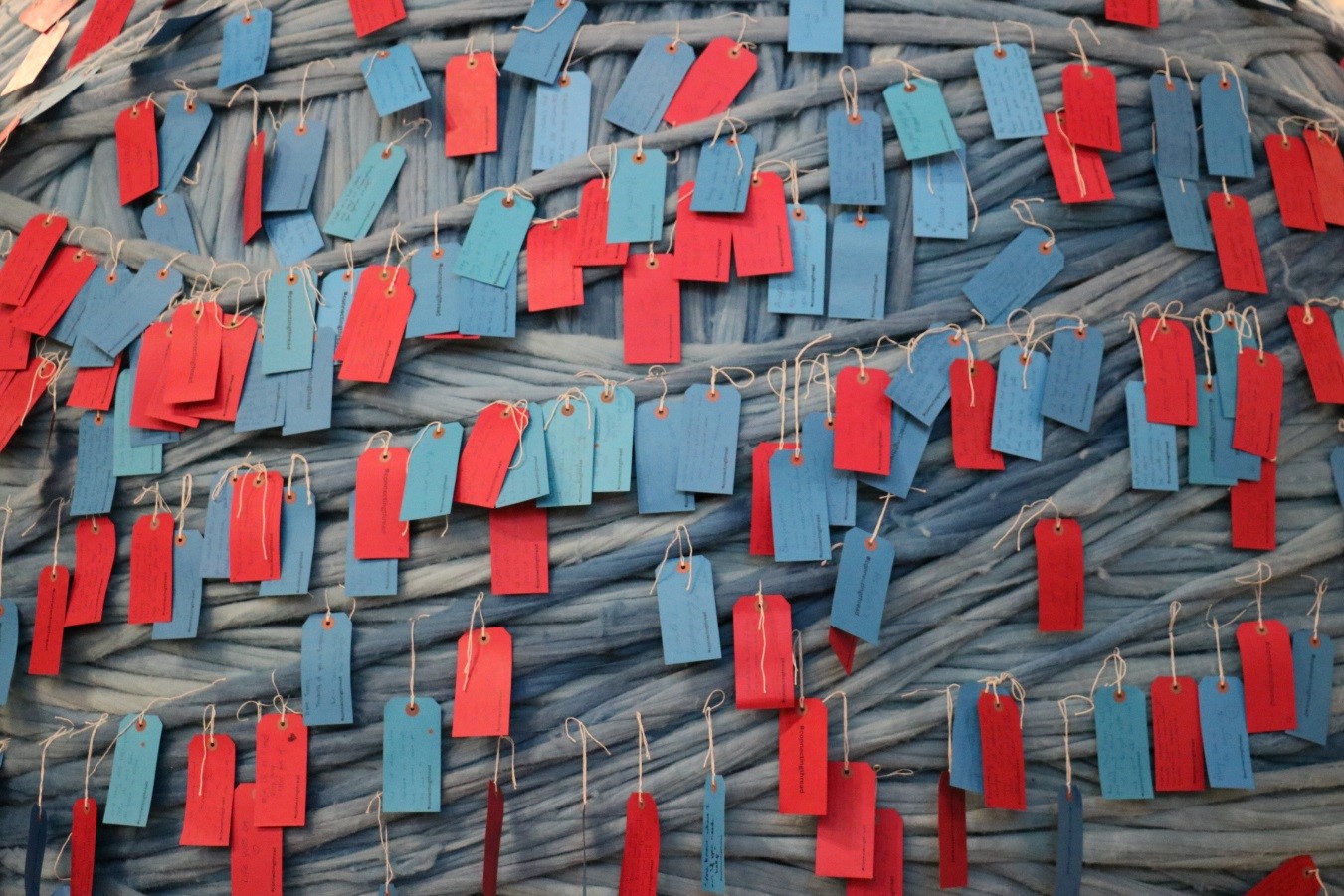 We used luggage tags tied to a giant ball of wool as it ties in with the visual identity of the wider campaign and the strap line of being someone's connecting thread when they're facing a difficult time.
It's also visually arresting, sparking interest and curiosity among people in the station. The ball of wool is also very soft, warm and comforting to look at, so commuters could touch and interact with it.
The main event
45 volunteers helped us talk to hundreds of people on the day. Activity was phased depending on the time of day – marketing materials were given out during rush hour which people could read on the go, free hugs and opportunities to stop and talk were offered during quieter times. We printed oyster card holders to fit the setting. These included business cards with campaign messaging inside as well as a blank tag to complete. People took the tags to work and brought them back completed in the evening.
Twitter ads were geo-targeted to the main train lines coming into the station to cultivate some online engagement and anticipation before people arrived and saw us. The majority of organic social media engagement was from people who had completed tags, enjoyed a hug, or a chat with one of our volunteers.
We're delighted we were able to integrate online and offline activity this way. It's so easy to click away before you've really understood something. By creating an experiential event, our campaign made people feel special and looked after, reflecting what our brand is all about – incredible care.
Lessons learned
The main things we learned were practical. Putting on an event in a London station is very high risk. If there is any kind of security alert, the event can be cancelled at short notice. When you have large numbers of volunteers committed to the event, with trains booked and spirits high it can be hugely disappointing (and costly) if the event has to be rescheduled at the last minute.
We're exploring lower risk, high footfall locations for future events and will adapt the marketing materials accordingly – tote bags instead of oyster card holders, if we do the event in a shopping centre. We're also looking at how we could have the same impact with a smaller number of volunteers so we can stage the activity at different types of community events and at short notice if needed.
Results
We're still measuring the reach and success of the event. It was so well received we're already thinking about how we can refine the concept and replicate it around the country.
Although we saw a spike in traffic to our online community, we were really looking to create a memorable experience for people to remind them that when they face the loss of someone they love, they're not alone. We'll continue to monitor brand awareness and understanding longer term.
More like this
"Consumers increasingly expect brands to be entertaining, experiential and collaborative." Read more in our best practice guide, Branding Inside Out
Read more about brands with social purpose at their heart