Your communications won't be effective if you don't know what your audiences want and how they want it.
That's why at the International Institute for Environment and Development (IIED), we've invested in an audience development strategy to identify, map and communicate strategically. It helps us to reach the right people in the right way.
Before we produce content, our research experts and comms specialists sit down to think about who we are trying to influence and why. We combine this with the appropriate outputs to get our message across. It's not possible to create and share good content without considering the audience and impact. 
This is different from communications of the past. Dissemination was often factored in too late in the process to be effective and was not audience specific or innovative. Thinking carefully about audiences at the beginning of a project and choosing the right channel for presenting information is critical to ensuring maximum impact.
Who are you talking to and what are you trying to achieve?
For IIED, the term 'audience' includes the five priority groups defined in our strategy: policy, media, academia and research, private sector and philanthropists, and the informed general public. Plus two additional groups: our partners and our donors. 
Audience development goes beyond segmenting lists and tailoring content for those lists. It's about developing our relationships with existing and new audiences, not just increasing the number of people we talk to. It allows us to communicate relevant, timely, simple messages of value and helps us build trust and credibility so that they continue to actively seek our advice. Also crucially, we can avoid trying to communicate with audiences who are not interested in our work. 
Harnessing internal expertise
Our researchers really know who their audiences are. Their expertise and insider knowledge is essential to the process of audience mapping. At the start of a project, we identify the intended audiences together – working across teams to create a 'long list' which begins a stakeholder map. Once we've pulled this long list together, we analyse and group by qualities such as power, importance, interest, etc. The data can then be mapped into different matrices such as an audience power versus interest matrix.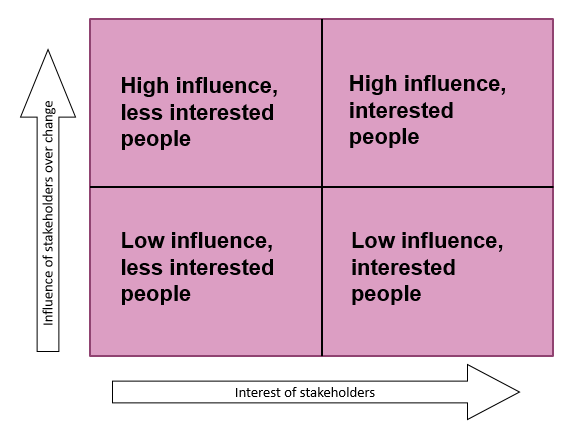 Five tips for good stakeholder mapping 
Do be specific. Know what you want to achieve from the outset.
Don't just do long lists of 'everyone who knows us'; that's the beginning, not the end.
Do put your customer at the heart of your stakeholder strategy/map.
Don't just use the same list of stakeholders every time. Segment and update your database.
Do think carefully about categorisation. Some may fall into multiple categories.
Once you know who your audiences are, you need to identify what they want. This is where the expertise of our comms team becomes invaluable. A mix of their knowledge and communications skills help us develop our audiences further by identifying their information needs, frequency of communication and preferred channels. For us, it requires thinking outside the usual 40-page research report and looking at the most effective ways to engage and influence. These can be blogs, videos, briefings, virtual conferences, social media, press releases, backgrounders, infographics, one-to-one meetings or a combination of several of these. 
The benefits
As well as tailored audience mapping for projects at IIED, every communications strategy we produce has a clear outline of all the audiences for the project. Internal appetite at IIED has grown to the point where we have created toolkits and templates to empower the whole organisation to put audience development in all their planning processes. Researchers also take workshops to our local partners, who have an even deeper knowledge of audiences at the heart of many projects. 
Audience mapping helps us achieve our desired outcomes, whether that's reaching a group of influential policy makers, communicating impact to a donor or raising the profile of an issue. It has also helped IIED to identify audiences that we previously haven't targeted such as NGOs and young people. By mapping linkages between different audiences, we can understand why they might be pivotal for particular projects. 
Because this process allows you to prioritise audiences it also helps where funds are limited, as you can focus on those who will drive the campaign more effectively and be your biggest influencing force, rather than just the wider audience. However, the most important outcome is ensuring we continue to put our audience at the heart of all our work. 
More like this 
Clair also hosted an audience mapping workshop at the CharityComms  audience strategy conference and the slides are available here
Further reading