Can you move up the 'most loved brands' listings when promoting a cause some might find unpalatable?
This month's sell out Brand Breakfast delved into the hard business of developing and managing a brand when the odds seem stacked against you. Andrea Barrett of British Gas spoke about managing its profile against a background of almost constant negative debate. Katy Emck of the charity Fine Cell Work, told us how the polarising idea of paying thousands of prisoners for their needlework has turned into a charity having a real impact.
Understand me – British Gas
Whether it's about overpayment of execs, the price of gas, or the profits of the company – British Gas is constantly vilified with criticism often amplified by social media. Andrea shared top tips on counteracting negative press and building and maintaining brand reputation. There were some pertinent stories for our own sector especially on how to build trust and relevance.
First, go back to basics. Listen to customers and actually do something about it.
British Gas customers said: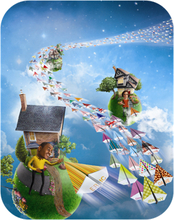 "Save me money" – So it introduced transparent billing and tariffs
"Give me control" – The company innovated with remote control and smart meters
"Deliver great service" – Not being afraid to make changes if necessary.
Second, take care to differentiate and build loyalty.
British Gas knew that by sharing the values of its customers, it could build loyalty. It set up a Utility Trust to help those unable to manage or pay for fuel, and has benefited from partnering with well regarded brands such as Shelter and the Citizens Advice Bureau. Partnerships, if integrated across a charity can have an incredible effect both internally and externally.
Andrea spoke about how through product placement and the more modern and powerful 'brand referral' – kitting out key influencers in the social media sphere with the latest products – a story of trust and peer to peer recommendation was built.Andrea finished by emphasising that this is long-term work. Building brands is never a short term game.
Tell me a story – Fine Cell Work
Chief executive of Fine Cell Work, Katy Emck told us how from the beginning the charity was committed to selling high quality products (cushions, quilts etc) and to paying prisoners for their work. She saw and highlighted the power of the paradox – the harsh world of prisons and prisoners side by side, with the beauty, creativity and craftsmanship of exquisite needlework.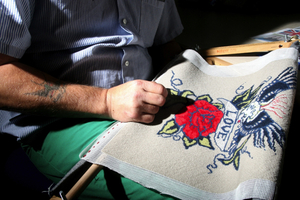 "Our product is our brand," Katy said: it has the power to transcend negativity. Through the help of volunteers, who teach and support the prisoners, remarkable tapestries are commissioned, created and sold through retail and interior design channels.
Bravery and honesty seem to run through the core of the brand. It's always been transparent about where the work comes from, with labels stitched into each product giving the name of the prisoner, making it possible to send a much-appreciated thank you letter.
The power of story-telling has been central to helping the public understand its work, and has boosted PR and word of mouth. The stories are about morale, accomplishment, community and pride within prisons, as well as externally tapping into a feeling of a long lost era when we all had more time on our hands.
"I get loads of thank you letters from people. Sometimes it chokes me up and brings tears to my eyes." Lee, HMP Wandsworth
Another core strand of Fine Cell Work's early success has been celebrity endorsement and setting designs for work which have been subsequently auctioned.
Fine Cell Work is building an increasing reputation for bringing two very different worlds together in a surprising way to create products that are without doubt beautiful. Most importantly the charity recognises and uses the depth and complexity of its story to build its brand, rather than shying away from the polarity built into its work.