"Successful people are failures because they have dozens of failed projects behind them. We tend only to see the successes."
These are the words of journalist Tom Hodgkinson, writing in the Guardian last week. A recent CharityComms seminar on why failure is the key to success aimed to help redress this balance.
"It's not easy to 'fess up to mistakes," said Vicky Browning, director at CharityComms, who opened the seminar with Tom's words.
Here are four things I learned from the speakers who had the courage to own up to theirs.
1. The sector needs to reframe failure
Coach Lucy Gower discussed how we're taught to conform to rules from childhood and how this is at odds with what charities need to do to achieve social change. "Our organisations push at boundaries and we need to test ideas," said Lucy. She mentioned how Great Ormond Street Hospital Children's Charity did this by working with Formula 1 to speed up the handover between surgery and intensive care for sick children. "View everything as a test and take risks on a smaller scale first," said Lucy.
Remember: you don't have all the answers, but if we don't do anything, we'll never learn.

Lucy Gower
2. Trust your supporters to speak for you
When the MND Association realised its June poster campaign suggested something it didn't intend, it chose not to counter criticism on Twitter. Chris James, director of external affairs, said that, instead, the charity let its supporters defend it – which they did strongly. The misunderstanding was also an opportunity for the charity to review procedure (for example, around testing creative approaches) and for spokespeople to hone their media skills.
I normally comment on positive news stories. It was good to be able to argue my point. It has prepared me for appearing on Newsnight!

Chris James
3. We need to admit to our lack of control of comms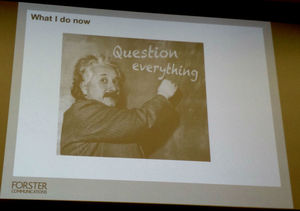 Not doing so, said Peter Gilheany, director at Forster Communications, means we don't mitigate for that lack of control. Eventually it leads to more mistakes, like not properly evaluating a campaign, overpromising to senior management or not preparing responses to FAQs or queries you know the media will ask. We can't control what happens to our communications when we share them with the world – but we can be ready for what the world throws back at us. Being prepared for the intrinsic lack of control of what we do is key.
Questioning everything will help you figure out the hole in a campaign. If you don't, other people will.

Peter Gilheany
4. Be careful to consider what all your key audiences want
Giles Robertson from Green Banana found that neglecting a charity campaigner audience made the digital start-up he founded "impossible to run" because it didn't have enough support. Instead, his team prioritised targeting Greenvoice, a web platform, at an audience of student activists, which was fun, but didn't help build partnerships. Similarly, Steven Dodds from Harvest shared his experience of negative press coverage when he organised a drinks reception for one set of donors. Aside from always getting drinks for events sponsored, he learned that charities need to make their donors more central to their communications.
More like this
Find out about our seminars which are free to attend for CharityComms members.