There's a copywriter in Macmillan's creative department who's also a stand-up comedian (Pav Rao, Bath Comedy Festival New Comedy New Act of the Year 2016). Rather than being a random career combo, like your dentist moonlighting as a lion tamer, there's a distinct possibility that a talent for comedy should be a key skill for any charity creative worth their salt.
Obviously, the problems we're trying to solve are no laughing matter. So humour must be used with care. But that's precisely because it is so powerful – it will get attention. In an area where people are accustomed to (and may even expect) shocking messages, appropriate use of humour can stand out like a canary in a coalmine or Donald Trump in The Whitehouse. (Sorry – that's never going to be funny).
If you're looking to raise awareness, raising a laugh can be particularly effective. There are few better ways to expose fundamental truths and shift perspectives. It's that 'ooo' moment when a comedy observation hits home so well it hurts.
WaterAid's #Ifmenhadperiods campaign is a great example of a truth funnily told. Imagining a world with menstruating males neatly highlighted the fact that over a billion women don't have access to sanitary products. It went viral, with over 1.4 million views across 15 countries.
More recently Water Aid also raised awareness of the lack of access to toilets through an ad that has office workers building a latrine next to the photocopier as a result of budget cuts.
Of course, some causes are more obvious candidates for comedy, as Prostate UK's recent awkward father/son chat ad shows:
However, you might think a charity like Parkinson's UK has little scope for humour. But you're reckoning without Dave the Worm (DTW), an online regular giving product raising awareness of Parkinson's research, plus sponsorship to fund it. Dave posts everything from research updates to daft jokes and is the best dressed worm I know. But there's a serious purpose. As Maria Taylor, senior individual giving officer at Parkinson's UK notes:
Following a 2014 survey we ran when Dave first arrived at the charity, over 20% of people questioned hadn't had previous contact with the charity before they signed up to Dave. So we did manage to reach out to new audiences which was one of our key goals. In addition, 45% of Dave supporters who signed up, continue to be engaged with another financial area of the charity too which shows the loyalty and engagement of our sponsors.
So Dave is increasing the reach of the charity and providing an entry point for new supporters, who then help Parkinson's UK in other ways. Here's a typical tweet: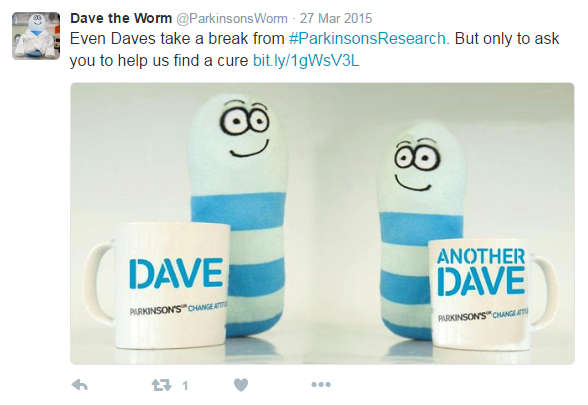 He may be a C. elegans worm with just 302 nerve cells (seriously, check him out) but he knows the value of a good joke.
However you don't have to be as evolved as Dave to appreciate the power of humour. Dictators have a history of banning jokes altogether, because they know sharing a laugh can deliver a reality check and bond people together in pursuit of change. The Nazis made jokes about Nazis punishable by death. And sarcasm has just been banned in North Korea. Yes really.
In the hopefully more egalitarian world of Twitter, humour has yet to be banned and is currently being used by @manwhohasitall to raise awareness of sexism by turning gender on its head.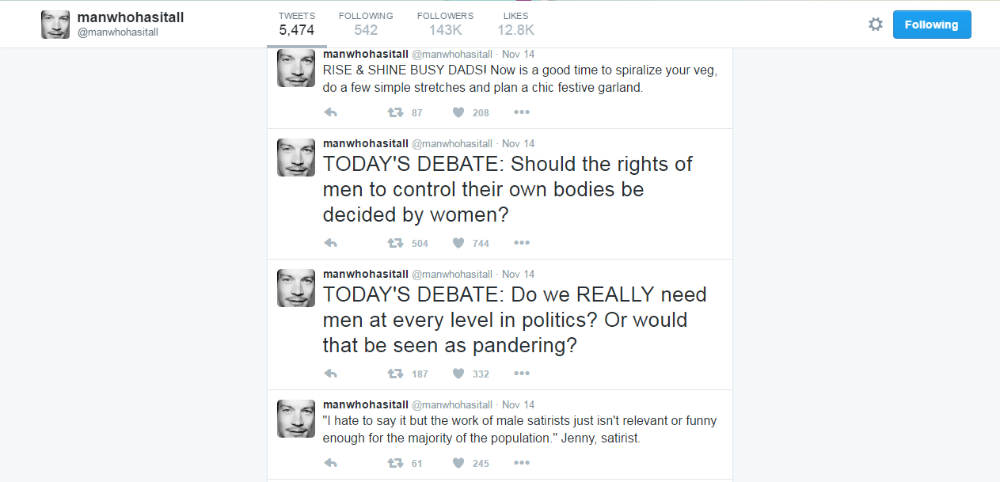 Devastatingly funny, it's the other side of the coin of @EverydaySexism, which uses a more straightforward approach, telling it like it is.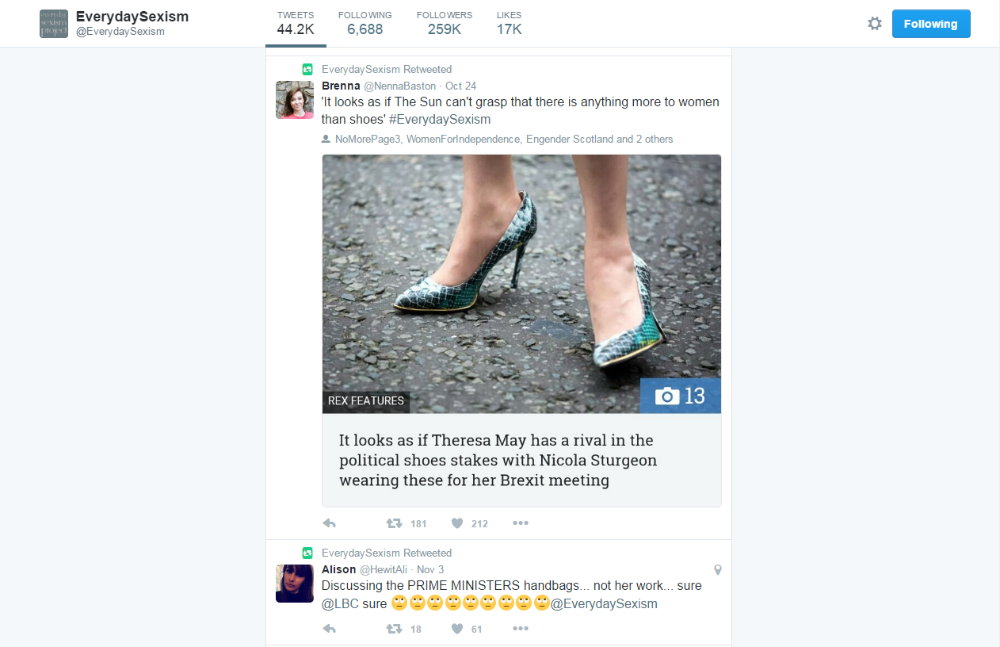 Both are powerful ways of telling the same story, but engage with people in different ways. @manwhohasitall is connecting with people with the universal language of humour, while @everydaysexism speaks to people in the know. Which is more effective? It's hard to say. But using humour has the potential to reach more people not currently engaged by the issue, because everyone (dictators excluded) likes to share a joke.
Macmillan is a movement of people bonding together to help those facing cancer. We're for and about real people, so humour is a part of the stories we tell. It could be having a giggle at a Coffee Morning or it could surprise you in places you may not expect to find it – for example among people sharing cancer experiences in our Online Community. People like Ronny who recently shared this in a blog on colonoscopies:
A physician claimed that the following are actual comments made by his patients while he was performing their colonoscopies:

"Any sign of the trapped miners, Chief?"

"You put your left hand in, you take your left hand out…"

"Hey! Now I know how a Muppet feels!"
And the best one of all:
Could you write a note for my wife saying that my head is not up there?
And black humour can lighten up some dark times, revealing human truths and providing much needed empathy and support for those facing cancer. Gail, a member of Macmillan's Online Community, recently posted her excellent stand-up routine about her cancer experience:
Totally Tasteless Tit Jokes, which includes this joke about life after a mastectomy:

"After surgery I hoped that people who got on my tits would only be half as annoying"
You can see the full routine here.
The Macmillan brand also has room for wit and humour – fun and entertaining is one end of our creative spectrum. So, where appropriate, we can be funny to valuable effect. For example, our Love Your Lady Parts gynaecological health awareness campaign is enabling us to get women talking about things many normally keep quiet about. Things that can be literally a matter of life or death.
So a good laugh can do a world of good. It's a force for change that can enable us to raise awareness, change perspectives and build a movement. And that's the sort of tool we need to have in our charity comms armoury. Maybe you should look to see where you can find humour in your cause, because it could be a force for change for you too.
As the American writer Conrad Hyers once said, humour is "a stubborn refusal to give tragedy the final say". Isn't that what we're all here for?