WhatsApp, the instant messaging app, is becoming one of the most popular apps around the world – and it continues to grow. The channel's popularity hasn't gone unnoticed by charities: fundraisers raised £975,000 from WhatsApp sharing in 2015, according to JustGiving.
Boasting a membership base of one billion, the app is popular as a messaging platform for group conversations as well as providing a 'broadcast' function, enabling a user to send messages to 250 contacts at once. And the trend of instant messaging is set to rise. As Paul de Gregorio, head of mobile at Open, says:
"In the UK, SMS volumes have stabilised at about 150 billion a year. But the use of instant messaging has exploded, with volumes hitting around 300 billion in 2014 — up from about 25 billion in 2010."
Here's how some charities are using WhatsApp to engage and communicate with their communities, staff and volunteers.
Connecting staff with Childreach International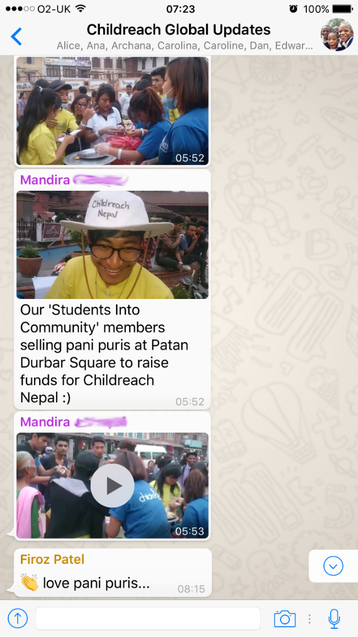 Childreach International uses WhatsApp to link staff located in the UK, India, Nepal and Tanzania by sharing photos and vlogs from the organisation's projects. Communications executive Lisa Boyles from Childreach says:
Staff now feel a closer and more immediate connection to our work around the world. They are able to ask questions to colleagues they would otherwise not get an opportunity to interact with. This is also helping to provide fresh and engaging content that can be repurposed for our social media and online platforms.
Think: Could WhatsApp help you communicate with staff more effectively?
Engaging supporters with MSF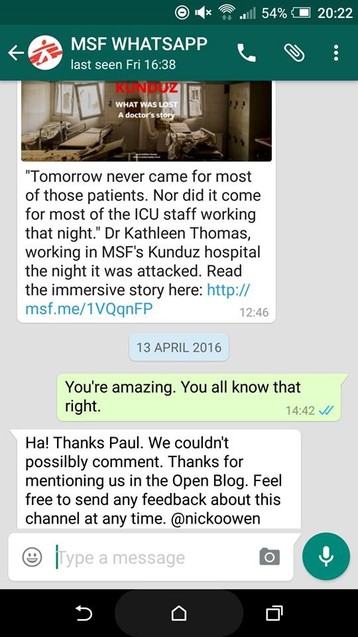 As an organisation that works in some of the world's most challenging environments, MSF uses WhatsApp to bring its audience closer to its work. MSF also interacts, as demonstrated above, creating another channel for engagement, similar to other social platforms.
Think: Could WhatsApp help support your organisation's engagement strategy?
Behaviour change with PETA
PETA has started using WhatsApp to support email journeys, encouraging supporters to go vegan. Around 700 participants receive one message a day, with content such as recipes, advice on shopping for vegan products and information on nutrition. Digital engagement officer Anne Clark from PETA says:
The response was overwhelmingly positive, with many people replying enthusiastically to our messages. We also sent participants a survey at the end of the month to ask them whether the messages had been useful and if they planned to stay vegan going forwards. 88% of respondents said they planned to stay vegan, with a further 9% saying they were considering it.
Think: Have you considered using WhatsApp to support existing comms?
Marking moments with Tearfund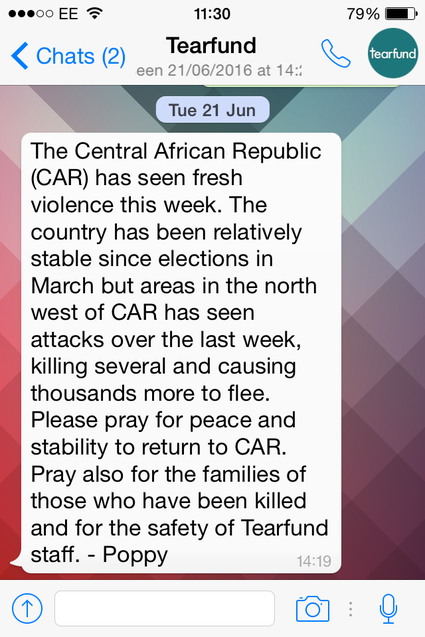 Tearfund uses WhatsApp to periodically share prayer updates with its supporters, reaching people instantly. Updates are less frequent than other charity WhatsApp accounts, but coincide with real world events its supporters are likely to be concerned about.
Think: Could WhatsApp help you communicate with supporters when timely comms is needed?
How does your charity use WhatsApp? Let us know in the comments below
Thank you to Lisa Boyles, Anne Clark and Paul de Gregorio for their contributions to this article.
More like this
Six charities getting Instagram right
Check out our free social media guide