In 2007, MySpace was the world's most popular social network, Gordon Brown was prime minister and only the earliest of early adopters had an iPhone. It was also the year CharityComms was born.
Today, one Brexit vote, and millions of smartphone swipes later, the landscape looks very different. But, despite big political and technological changes, one thing has stayed the same: comms is still at the heart of how charities change the world.
For the last decade, CharityComms has been tirelessly flying the flag for comms by connecting professionals and sharing best practice. In our tenth year, we've launched the Communications Benchmark 2017: Taking the sector's temperature, to investigate how our sector has evolved over the last 10 years, and what might lie in the future. To follow our 2008 and 2012 benchmarks, this year we asked comms professionals at 273 charities a series of searching questions about their views, and analysed the results.
The good news is the sector is in good health. Charities now value comms more than ever and the rise of digital has helped support the importance of comms. However, a lack of understanding and appreciation of comms in some organisations still affects a significant minority of teams, with knock-on effects on strategy, resources and staff morale.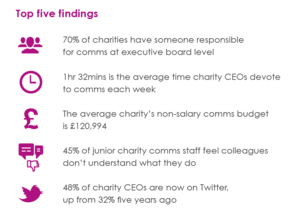 The report has been designed to help you:
evaluate how much comms is valued
provide ammunition to boost the status of comms and secure management buy-in
compare your communications department and its resources against the wider sector
identify the barriers to achieving your comms goals
spot current and future trends
Curious how your organisation stacks up against others in the sector? Download a copy of the report, Communications Benchmark 2017: taking the sector's temperature.