With the amount of emails landing in MP's inboxes every day, it's harder than ever to get your message heard.
If you do manage to grab their attention, how then do you get them to act?
Many politicians don't understand the challenges people with a learning disability face, but at Mencap we've seen a positive change in politicians' thinking after they've met people with a disability and their families.
Our Hear My Voice campaign was inspired by that change. 
How did it all start?
The general election was a year away and the usual round of promises were starting. With 1.4 million people with a learning disability living in the UK, some at risk of hate crime, poor healthcare and social isolation, it was a crucial time to grab the attention of the candidates running for office.
Our campaign aim was to empower those with a learning disability and their families to vote, to be part of the democratic process, contact their local candidates and put their issues on the next Government's agenda.
Working with the more onion agency, we built a microsite where people could share their stories online. They could then contact their local candidates and ask them to take the "I'm listening" pledge. These inspirational stories would help drive the campaign forward.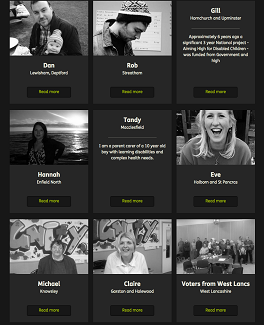 In their own words
We took a positive approach, engaging politicians with their constituents' stories. Politicians began to realise how little they knew about what having a learning disability actually means in day-to-day life.
Engaging Networks provided the campaigning tool we used to target local candidates. We knew that if they received stories from their own constituents, it would make it personal and relevant, having more impact. 
We kept our target numbers low as we knew some people might have found it daunting to write to their MP. If we could get 100 strong, unique stories then we could reuse them effectively to continue to influence MPs: a 'quality over quantity' approach.
Rewarding politicians?
Yes really!
It was important to forge long-standing relationships with candidates so we could influence decisions in Parliament. By asking them to publicly pledge their support for us they got a reward – a means of self-promotion and recognition for taking action. They were able to post their support messages onto our microsite and often went on to blog and publish press releases about their support too. We took care to be mindful of the Lobbying Act and therefore showed no party loyalty.
Conversations between candidate and constituent were sometimes continued after the campaign, forming a vital link. We now have a strong bank of stories from MPs sharing their knowledge and thoughts about learning disabilities, our Parliamentary team continues to work with them on the issues at hand.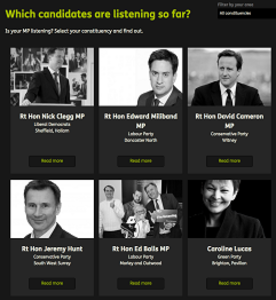 The campaign calendar
May to Aug 2014
May saw our soft launch – a simple 'join the movement' message, mobilising our network of local groups, e-campaigners, staff and regional campaigners.
We began to plan and develop our microsite, focusing on accessibility. A user-led approach was key here, with people with a learning disability feeding into the process. 
Using monthly blogs, email, social and paid avenues we started the conversation, pushing each issue outlined in our manifesto.
Easy read guides on how to vote were published for people with disability, carers and support workers.
Sept to Dec 2014
In September we launched our Hear My Voice microsite at a Parliamentary event.
We established an email journey, updating campaigners on what happened after they took action, re-targeting people who hadn't taken action and thanking those who did. The emails were themed, written from different voices including our activism lead Clare, campaigns assistant Ciara (who has a learning disability) and from families of those who had shared their story.
Jan to May 2015
We contacted MPs on Twitter and organised 60 hustings events – bringing those with disability face-to-face with their local candidates. People then shared their stories via tablets, helping us convert offline into online campaigners.
We worked with the main parties to produce easy read manifestos. With the Cabinet Office we had input into making voting more easily accessible and enabled more people with a learning disability to use their right to vote. Some did so for the very first time.
Easy, low-ask online actions were launched, targeting people who had joined the movement but hadn't yet shared their story. This resulted in 700 new actions and 400 candidates pledging their support.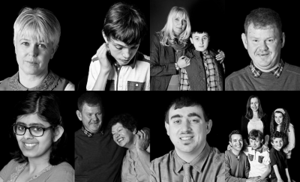 What was the result?
We wanted 100 stories – we got over 1,000. A further 6,000 took part via easier actions.
We wanted 75 candidates to pledge – we got 832. This included the three main party leaders, senior ministers and 151 MPs in the new Parliament. 
206 pieces of media coverage were produced, reaching a potential 178 million people.
8,000 voting guides were downloaded.
34,000 downloads of the easy read manifestos.
Between May 2014 and June 2015 we reached over 185 million people on Twitter, with 15,312 retweets. We also reached over 1.4 million people on Facebook, with 140,497 engagements.
We got 22,162 views of our case story videos from organic traffic.
We're proud to say that a fifth of decision makers in Parliament have now pledged to represent the views of people with a learning disability.
*This article was update after Mencap won their Third Sector Excellence Award.