We all know what a blog is, or do we?
Definition one
Contraction of 'web log' – a way to publish content easily to the web.
Definition two
A revolutionary democratisation of the process of publishing, with the potential for anyone to reach a global audience.
Definition three
A medium popular with "socially inadequate, pimpled, single, slightly seedy, bald, cauliflower-nosed young men sitting in their mothers' basements and ranting" Andrew Marr, Oct 2010.
Definition four
Somewhere to dump all the stuff that can't be published anywhere else on our website because our content management system (CMS) is so rubbish (paraphrased from Tamsin Bishton).
It's this fourth definition that really concerns those of us working in online communications, as it has repercussions for the digital effectiveness of charities.
How we got here
In the mid to late 90s, blogging software arrived like a godsend to web editors managing the content on truly dreadful website CMSs. By stitching on a WordPress application to your domain, you could work around some of the horrors inherited from your long-gone web developers.
Suddenly adding content became easier. Pictures, video and links could all go in and be rearranged without need of a degree in IT. And the resulting pages looked pretty good! Not the stuff to trouble design awards panels perhaps, but so, so much better than the default template pages on the main site.
Around the same time, blogging was beginning to be recognised as a powerful new communications style in its own right – be it educational, titillating or politically explosive – the unauthorised, accessible-to-anyone medium.
A blog as a bucket
The blog has made publishing a breeze, but essentially it's a bucket, and for most of us it's what's in the bucket that counts.
All too often blogs have been adopted for laudable reasons – we want a chance to reach a new audience, or understandable pragmatic ones – if I have to look at the backend of my website CMS again I may throw myself out the window. The problem is their archives can end up looking something like this:
An interview with our celebrity patron
A press release about our new campaign
Pictures of cake in our office!
A legal response to a PR crisis
Something else, can't remember what
I posted this to get HR off my back!
As they're the easiest place to publish they can become the place that attempts to compensate for shortcomings elsewhere in your content online.
Ban the blog
The solution? Take a step back and look critically at the wider issues around content – why do we produce it, who's it for, who makes it, is it quality?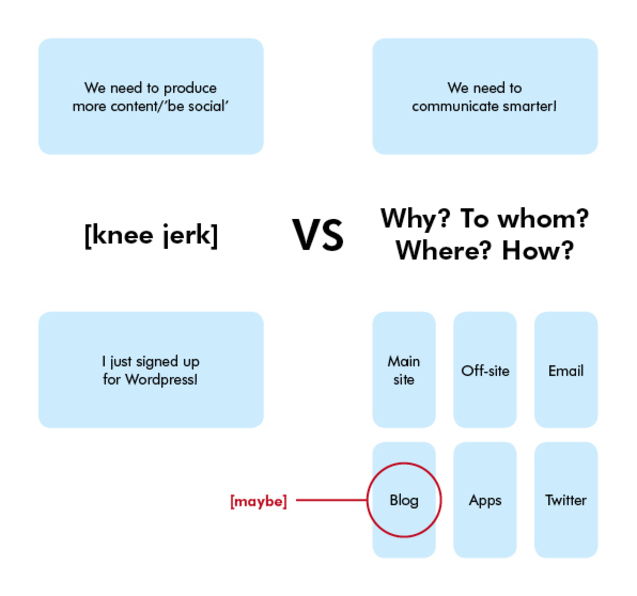 Ideally these things are explored ahead of planning a new website, as part of a digital strategy that encompasses objectives, audiences, activities and channels. However, it's often only in the thick of a web redesign that these matters come up for discussion.
One simple rule of engagement is to refuse to talk in general terms. 'The blog' is the prime villain here it means so many things to different people. 'News' comes a close second. Try banning these weasel words from the room in the early stages of planning. Organise a QI-style klaxon and flashing graphics if you have to. Whatever it takes to force a better articulation of the whys and wherefores of your content.
Encourage the planning to reach beyond your website, to social media and to relevant third parties. By treating these places as alternative platforms with different strengths and audiences, rather than places to simply amplify what you do on your website, you can immediately start to make better decisions about what fits where.
You may yet settle on a blog for your own site, you may require a news section. These should be positive decisions, based on a clear appreciation of the role they'll serve, and the beginnings of a brief for keeping them focused and useful. Less a sticking plaster, more a strategic player.
—————————————————————————————————————————-
Charlie spoke about blogging at our PR in the digital age conference.