Applying for the scheme and the matching process
What is mentoring?
Mentoring is a development partnership through which one person shares knowledge, experience, skills or information to support the development of someone else. CharityComms matches comms professionals working in the charity sector in mentoring relationships with external comms colleagues to help them with their professional development.
Application process
Applicants fill out an online form with information on their job role, career experience and what they're looking to get out of the scheme. We ask mentees to approach the scheme with one clear objective in mind, so we can find a mentor with the right experience. You can preview the application form questions here.
Application opening times
The Mentoring Scheme is now closed for new applications over the summer months while we work on an exciting new development for the scheme. Watch this space!
How we make a mentoring match
Our mentoring scheme is a personal matching service. Based on the information on the application form, we review our extensive network of contacts to find an appropriate mentoring match. The time it takes to make a match can vary. We will do our best to help with all requests, but bear in mind there may be applications we're not able to help with.
First mentoring meeting
Defining how it's going to work
Once we've made a mentoring match, an introductory email is sent to mentor and mentee, so you can arrange your first meeting. This meeting is a chance to get to know each other, talk about your objectives as a mentee and assess if it feels like a good match. We provide you with a check-list of what to go through on your first meeting.
Time commitment
In your first mentoring meeting, we suggest you plan how often you'll meet with your mentor and roughly over what time period (on average people tend to meet every four to six weeks for an hour or so over a time period of six to 12 months).
Keeping the mentoring going
Keep reviewing how it's going
We suggest reviewing how things are going after a few sessions. CharityComms will check in with you both from time to time to see how you're getting on. We also provide guidelines on how to keep on track with your goals and make the most out of being mentored. Be open about how long you'll be meeting. The length of time a mentoring relationship continues varies between everyone involved with the scheme. It's good to discuss this with your mentor when you have your first mentoring meeting.
Finishing your mentoring relationship
Set an end date right at the start
Agreeing an end date at the beginning of your mentoring relationship can shape your work together, giving it structure and purpose, and a timeframe. How long you spend together will depend on what you want to achieve and the availability of your mentor. It can be anything from three months to a year. We also provide guidelines on how to approach this element of the mentoring relationship.
A few extra notes
Respect your mentor's time
Please remember that your mentor is giving up their time voluntarily to help you, so do make sure you respond promptly to correspondence from them.
 How is CharityComms involved?
Once we have made a match between mentor and mentee, if the first meeting is successful we will leave it to you to keep things going. You are of course free to contact CharityComms with any problems and / or advice you may need, and we will check in with you from time to time to get feedback. We'll also send you an evaluation form when the relationship comes to an end.
Any problems, let us know
Feel free to get in touch any time with our mentoring manager, Lally Wentworth (lally@charitycomms.org.uk) if you have any questions or problems. We always welcome your feedback and will support you in your role as a mentee as best we can.
Download the handbook PDF: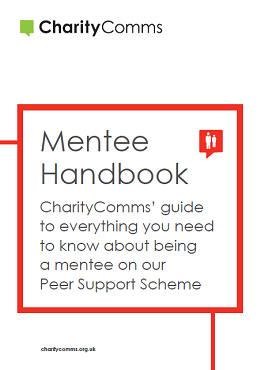 Questions about the scheme?
If you have any questions about the Scheme or any applications you might have already made, please contact Lally Wentworth, our mentoring manager, who will be happy to help.