In January, an Evening Standard headline leapt out at me: "Six in 10 Londoners will search for new job in January". Research for The Open University found that while many people sought to move jobs to beat the January blues, they also lacked the confidence to make the career change.
I know the feeling. Perhaps I was conditioned to spot the story because I, too, was in the job market and asking myself "should I stay or should I go?"
I made the move and although starting my first day as CharityComms' new CEO is still stirring the emotions, from huge pride and excitement to anxiety about change, there's not much time to dwell as CharityComms has a full roster of events to attend, publications to read and new developments on the way.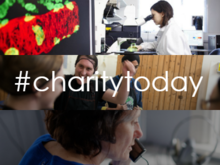 If you tuned into a BBC station on 9 February, you might well have heard a feature about charities and the incredible contribution they make to people's lives. Huge thanks and well done to all the charity volunteers, local communities, supporters and staff who contributed. CharityComms was a partner in this initiative and with the charity and social leaders' network ACEVO, the Institute of Fundraising and the Charities Aid Foundation, we published Charity Today 2017, a fresh analysis of the collective impact of charities across the UK.
We're all about convening cross-sector collaboration and helping our members to tell simple, compelling stories about our sector's work, purpose, shared values and impact. Good work aside, there's much to do to keep and build trust and to communicate a positive identity for the entire charity sector.
Our first conference of the year is also geared to helping charity communicators reach and engage the public: The future of public engagement – how will charities need to respond to changes in supporters, the media and the wider world over the next five years?
To coincide with this conference, we'll be launching our latest best practice guide produced with Eden Stanley, Whatever Next? Public Engagement in 2022, available after the conference on 23 March.
Our website has all you need to be on top of the latest trends and understand the best ways to respond. And you can always contact me and the CharityComms team.
It's been a busy and high octane start to the New Year. Seth Godin may have beeen right when he said:
If it scares you, it might be a good thing to try.