How many conversations, emails and meetings have you been in over the last few weeks about fundraising standards, negative media coverage of charities and inadequacies of self-regulation?
I'm guessing it's a lot.
It's been a frantic time, with a great deal of contemplation for some of the UK's biggest charities.
While Friends of the Earth has not been at the centre of the media storm, that's not been a reason for us to stick our fingers in our ears and start humming. Regular, timely, relevant communication with our supporters is integral to the way we achieve change in the world. Telephone fundraising has been a vital part of our donor recruitment programme for some time. We send out regular emails, and about half a dozen mailings a year.
Taking a proactive approach
With the amount of criticism directed in particular towards telephone fundraising it would be foolish of us to dismiss the issue as nothing to do with us, and continue to go about our business. We decided it would be better to take a proactive approach and talk to our donors directly. Although not all of the criticism has been fair, it is reflecting a public sentiment that we must pay attention to.
We decided to turn the situation into an opportunity. Why not contact our donors and ask what they think about our communications? We wanted to thank them for their support and reassure them that, contrary to the views of some parts of the media, we do give a damn.
We care about how our letters, phone calls and emails make them feel. We care about what they'd like to receive more or less of. And we care about how they want to support us.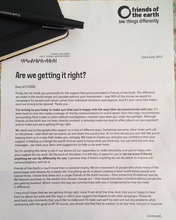 Our director of fundraising (and acting CEO at the time), Joe Jenkins, personally drafted a letter which we emailed to 51,000 donors and posted to 67,000. We selected our active cash and committed donors. We also included supporters who had recently responded to our SMS fundraising ask as part of our bees campaign, as they were likely to get a fundraising phone call from us in the near future.
When I spoke to various colleagues about our plan I got a mixed reaction. Some thought it was a great idea; a chance to get valuable supporter insight. Some thought we were misguided and that it could result in thousands of donors cancelling their Direct Debit and opting out of ever hearing from us again. I was confident that it was the right thing to do, but understandably a bit nervous about the response it might prompt. We had no idea how many donors would respond, or what they would say.
The response
I needn't have worried. While we've had a handful of donors who have cancelled their donations, and a few more who have complained about the number of emails we send, or the prompt amounts on our fundraising appeals, the overwhelming majority have been positive. If a donor doesn't want to receive fundraising phone calls then I'd rather find out than keep calling them and in doing so risk their support entirely.
It'll take us a while to properly record and analyse the 2,000+ responses we received. In the meantime we'll include an update and a thank you in our next supporter magazine so that they know that we are reading through everything they've sent us.
So many of us talk about putting our donors at the centre of our work, and say that we want to know what donors want from us, without properly doing it. We've certainly been guilty of this in the past at Friends of the Earth. But hopefully we've shown ourselves as well as others that putting that theory into practice may be a bit nerve-wracking, but is certainly worthwhile.
Supporter insight is like gold dust. I'm looking forward to putting our donors' feedback to good use and asking for more of it in the future.