At Guy's and St Thomas' Charity, we work with busy professionals in the NHS and beyond. Reaching them with our message can be difficult and, with a small comms team, we work hard to achieve that goal.
Strong local partnerships are vital to us. We provide grants and support new ideas to improve health. We only have impact by working with others and by shouting out jointly about the work we do together. However, some of our key partners are very busy NHS trusts, or small social enterprises with no, or limited, comms support. Climbing up their list of communications priorities can be difficult.
The report that came at the right time
Around April last year, the time came to think about how we were going to produce our annual report. We were still a very new comms team back then so we took a good look at what we had: a brand new website in need of content, a Twitter account with little strategy behind it and a brand that consisted of our logo and a couple of graphics. We decided to produce something that would also further our brand and online presence, help us better explain our finances and impact, and give our partners and others good reasons to talk about our work.
Making the most of it
We teamed up with an enthusiastic agency to produce our first digital annual report.
We built a microsite, seamlessly embedded within our site. Our website has an unusual horizontal scroll. The report's microsite embraced the feature but also built on it by introducing vertical scrolling too, revealing opportunities to develop our corporate site in future.
Clear financial graphics helped us to explain who and what we funded more clearly than we had to date. We used micro case studies rather than longer stories to show the breadth of work we support.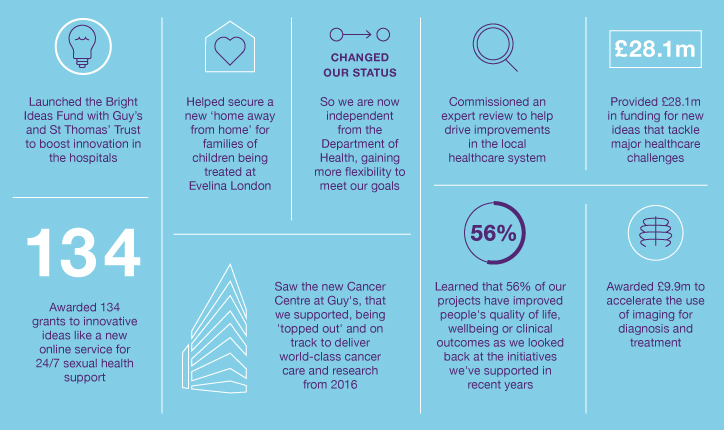 The graphics, case studies and some customised narrative were designed to make it easy for our busy local counterparts to engage with our content and help us disseminate it. Most flagged the content in their e-bulletins and used it repeatedly on Twitter. The report was widely spread across our critical local patch and has become our most successful content to date.
An essential part of the brief to the agency was that all key pieces of content in the report could be easily repurposed on our website and social media. Our site is now nicely peppered with many of the graphics, images and case studies. We also ran an intensive two-week Twitter campaign which gained over 30,000 impressions. It got 20 engagements per tweet, doubling our average. Much of the content is timeless enough that we continue to run it.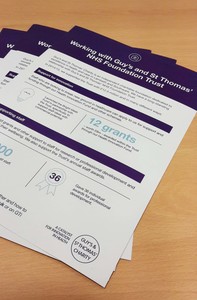 However, not all our core audiences are digital. Clinical staff often have little desk time, so we repurposed some content from our report to be printed and handed out at key events, using the material to talk about our role.

The project also gave us new iconography and expanded our colour palette. We have since used these and built on them in our latest festive card and a guide for health innovators on how to sustain the impact of their breakthroughs.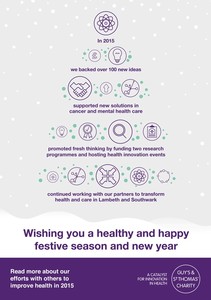 To date, our report's microsite has been visited almost 1,200 times. That's equivalent to 10% of traffic to our corporate site in the same period. Visitors also stay longer and check out more content. The insights have given us ideas to improve our corporate site.
However, amassing visits to the report's site was never the main goal. The real value of the project was in the opportunity to strengthen our brand, website, social media and local relationships.
There are many ways to tackle an annual report. Sometimes a concise and compliant document will do. Other times, your annual report could be the perfect opportunity to propel some of your ambitious branding, digital or engagement plans forward. If that's the case, do it. You'll never look back.