In developing countries, local radio is a crucial communications channel for discussion and change on issues such as education, politics, human rights and women's issues.
UNESCO, the United Nations Educational, Scientific and Cultural Organisation, has supported 32 radio stations in seven countries across sub-Saharan Africa since 2012. But radio stations are often held back by insufficient skills and knowledge in information and communications technology (ICT), which means they are unable to reach everyone who may benefit from their shows.
In order to create great broadcasts and grow interaction with audiences, UNESCO provided the people operating those stations – managers, producers, technicians, correspondents – with ICT skills and equipment through the Empowering Local Radios with ICTs initiative.
An unconventional way to share success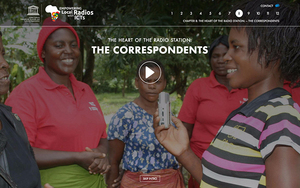 The initiative has helped radio stations improve ICT capabilities to stimulate public debate, engage communities around local issues, promote gender equality and change people's lives.
However, UNESCO needed a way to showcase the success of the project and demonstrate impact to supporters and funders. It worked with our digital product studio Addition to produce http://radioict.org.
The success of this project needed to be shared. We wanted to use digital media in an unconventional way for the sector, telling a story that would engage the audience and make them want to find out more and participate.
Mirta Lourenco, chief of media development and society section, UNESCO
Sparking funders' interest through storytelling
Instead of rigidly following a brief about the shape of the product, the UNESCO team worked collaboratively with Addition, sharing lots of excellent audio-visual content provided by the initiative's contributors and generating lots of different ideas about how the project could be brought to life.
When we saw the wealth of content, we knew we needed to put a strong narrative at the heart of the product and apply an editorial focus to select the best imagery, sound files, video and most importantly, the real life stories from the radio stations and communities. The story needed to be really compelling in order to connect with the target audience – funders such as international development agencies and NGOs – with the impact of the project on local communities. While any potential funder would need more in-depth material such as detailed impact reports in order to make a funding decision, the team planned a storytelling experience to capture the inspirational essence of the project, and spark interest, as a step in the funder journey before providing that next level of detail.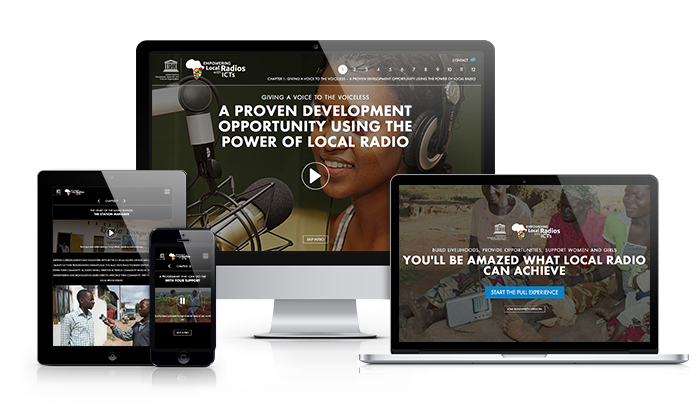 The teams then worked together to shape the experience using audience insight, storyboarding, copywriting, iterative design, prototyping and technical build.
It's rare to have so much excellent raw material to work with at the beginning of making a product like this. All the great audio, imagery and video provided by UNESCO gave us an editorial challenge: what to use at what point of the story… and what to leave out!

"We wanted to deliver an immersive storytelling experience, something more common in mainstream online news media, but instead geared to a niche target audience.
Stewart Sear, creative director, Addition
http://radioict.org was launched on 13 February 2016 – World Radio Day. It's a great example of how a close collaboration between client and product studio, with a tight focus on the core concept and purpose of the product itself, can produce an exceptional result. The project has been nominated for a BIMA award.