How can a talking home assistant, dating apps and text messaging help a charity achieve its objectives?
The challenge used to be to get charities to recognise the value of digital, but technology is now so prevalent in our lives that it's a no-brainer. The next step is to get charities to meet the expectations of increasingly digitally-minded users – just having a website isn't enough.
Amazon Prime Now customers can place an order with a few taps on their phone and have groceries delivered within two hours (and this is before drones start to impact our lives). Netflix viewers can summon thousands of films on a whim. So why should HIV testing still involve sitting in line at a clinic?
One of Terrence Higgins Trust's strategic priorities is to end HIV transmission. A key part of this is to get more people, and particularly those most at risk, testing regularly for HIV. That means we need to look at new ways to reach people, deliver testing and normalise the whole experience.
The role of digital in a self testing pilot
Working with Biosure UK, we ran a month-long pilot in the summer to trial free self testing for HIV. Instead of going to a sexual health clinic, users could order a test posted to their home. They took a blood sample themselves and got their result within 15 minutes. 
Previous home tests had to be posted back to a lab and results took up to a week, but people increasingly expect instant results. This was the first time these kits have been distributed free of charge, paid for by our own innovation fund.
While the kits themselves are offline, digital played an important role in marketing, delivering the results and follow up:
People ordered the tests through a brand new standalone website, optimised for mobile – and mobile devices were responsible for more than 80% of orders.
Promotion of the service was online only, through Facebook, Grindr and other dating apps.
Users were sent text messages reminding them to complete their test along with a unique link for reporting their result. This enabled us to evaluate the service and offer support and advice to those with positive results.
Nearly 5,000 kits were ordered and more than 60% of users reported their results to us. The majority of testers were gay men – as well as being a key at-risk group for us, they are also often early adopters of new technology, so the platform met their needs well. By advertising the service through dating apps, we reached some of the most at risk people.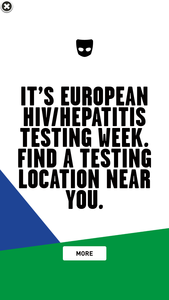 Feedback showed that users welcomed the ease of both ordering and carrying out the test. And by sending a test to them, instead of waiting for them to visit a clinic, we helped nearly 30 people discover they were living with HIV. As a result, they're now on treatment that will control the virus and prevent it being passed on to others.
Following this successful pilot, the challenge is now a more prosaic one: how to fund such a service long term.
Using digital innovation to support our strategy
We aim to end HIV transmission so we're always thinking about how to increase testing. Digital is integral to achieving this objective. 
For European HIV-Hepatitis Testing Week in November, we worked with several mobile dating apps – Hornet, Grindr and PlanetRomeo – to promote local testing for HIV, hepatitis and other sexually transmitted infections. The apps provided free advertising while a new mobile-optimised European Test Finder helped people locate their nearest testing site. The service covered 53 countries across Europe and Central Asia with promotion in 40 languages – the kind of coverage that you can only get (economically anyway) with digital.
Meanwhile, for National HIV Testing Week in England, we developed a 'skill' for Amazon's Alexa voice assistant that advises people when they should test for HIV. It's delivered through Amazon's Echo devices, which arrived in the UK in October. You answer a few questions and Alexa tells you when to get tested:
I don't expect thousands of people to use this service – not unless Echo devices flood the country. But it's an example of going where the users are and making a service available in a different form. It's also a talking point and appears in listings of Alexa skills, both of which help us to remove the stigma from HIV testing.
We developed the self testing pilot website and the Alexa skill in house. In the case of the self testing service, this enabled us to spend more of the budget on the tests themselves. But that doesn't mean we're not investing in digital.
While we have developed lightweight projects that respond to users' needs, that's partly because our core website technology is increasingly out of date. The charity's leadership recognise that we need to redevelop our main website. As we do that, we'll bear in mind that users now expect to be able to access everything we offer online as well as face to face or over the phone.
How could you use digital innovation?
Look at new platforms and tools and consider how they could support your charity's strategy. For example, Facebook is developing its Messenger service to add chatbots – automated 'robots' that users have a conversation with. Is there a quiz that you offer on your website that could work as a bot?
There are lots of charities trying out new digital projects, from Shelter's virtual reality homes to Blue Cross's contactless payment dogs. Find out about some of the best from 2016 in Dan Smyth's medium post.
My advice: don't innovate for the sake of innovation. But do look carefully at what your users need, where they are and how to reach them.
More like this
Hear more about innovation at Terrence Higgins Trust at the future of public engagement conference.