At The Charity for Civil Servants, our aim is to provide support to any current, former or retired civil servant throughout their lives, with whatever problems they may have. With such an extensive offer and a commitment to double the help we provide by 2020, our team of just over 80 staff can't reach everyone on their own.
That's why volunteers are vital to our work as they're able to start conversations with the people they work with and those they used to work with, helping to increase our reach within this community. Volunteers are the backbone our work.
Historically, we only communicated with volunteers through our newsletter, sent to all supporters or through a volunteer specific postal mailing, both predominately sent via the post. Although this worked for some, others found it too comprehensive and corporate. It wasn't relevant to their personal experience of being a volunteer. In order to engage them, we needed to better understand exactly what information they wanted from us and how they wanted to receive it.
Breaking it down
Lack of time is a constant problem for volunteers and increasingly so within the civil service community. Not wanting to add to their pressures, we opted for infrequent yet lengthy communications. Even with the best will in the world, our volunteers just don't have the time to sift through reams of information.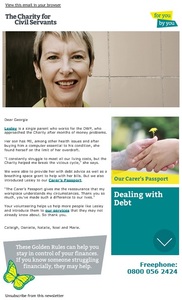 The idea was simple. Let's break it down – less information, more often. We put together an email campaign to be sent once every three weeks, limited to 150 words a time. To start with, success was patchy with varying levels of engagement per email. However, it became clear, that everyday topics generated the most views, clicks and forwards. This is what should lead our conversations, not charity updates, worst case scenarios and volunteer stories, as we had done before.
Talking points
We put this to the test with an email about depression. It's high on the civil service wellbeing agenda and most people will have had some experience of it, so it seemed a sensible choice. Our subject line was designed to invite conversation: "Would you know the warning signs?" Using a short article from a trusted organisation (Depression Alliance), we could succinctly answer the question there and then. They didn't have to trawl through pages of information on our website to find the right answer; we gave it to them by directing them to two pages on our website, adding value to this interaction with us.
The call to action was just as simple; forward the email to their colleagues. If it was relevant to them, it would be to others as well. This helped us to reach a wider audience but also empowered volunteers to offer support to those around them, without it being too time-intensive.
It wasn't just the content that needed consideration but how we spoke to them. In volunteering, trust is built by sharing a sense of identity, so we had to facilitate the peer-to-peer conversation. One key change was adopting a more colloquial style e.g. making sure we were talking with them, not to them (using "we" and "us" instead of "you").
A smashing success
The emails were sent to just under 100 people, initially with only around half opening them. We were blown away when we saw a jump from an average of 50 people seeing each email to over 1, 500 seeing this particular issue. There was a significantly higher amount of clicks and opens too, so something was working!
Encouraged by this success, we continued to apply the formula across the year covering questions like "How would I know?" (domestic abuse), "Did you find a parking space today?" (stress) and "But isn't he just being scatty?" (dementia). The last email of 2016, asking about budgets was seen by over 6, 000 people – that's a 99% increase from before.
It's not just great numbers, but our volunteers have commented how "useful", "short and snappy", and "informative and easy to understand" these emails have become. We receive replies more than ever now too, with volunteers offering ideas for development, spotting opportunities for us and amazingly, asking how they can continue to do more to support us.