Measuring and communicating your impact is a challenge for all charities.
As a small, second tier charity (delivering services to other charities rather than directly to the public), the challenge felt slightly daunting to us at CharityComms.
Like many other organisations, it's easy for us to demonstrate what we do – all our events, content, support for members, sharing of best practice and so on – but much more complicated to assess the impact of that activity.
I'm not one to shy away from taking credit where credit's due – or even where it may not be due but it looks like I can get away with it. At CharityComms, we believe that charities which put effective communications at the heart of their work for a better world are much better placed to achieve their goals. But even I didn't think "The world's got a bit better. CharityComms helped" would entirely cut the mustard. Not that there's anything wrong with the sentiment, but we needed to narrow things down a little.
Measuring the Good
In 2013, we took part in the Measuring the Good project run by CSV (now Volunteering Matters) and were matched with an excellent volunteer called Tim Livesley, then risk analysis and research manager at the Solicitors Regulation Authority. The fact that Tim was working completely outside CharityComms' sphere gave him an impartiality and an ability to question things we were taking for granted.
Working with Tim and our trustees, we developed an impact model linking our current landscape (championing communications and communicators) to our future landscape (the centrality of communications). The model brought together our objectives as an organisation with our business strategy – resource (our inputs), remit (our activities) and reach (our outputs) – which flowed through to our sector goals and on to our impact.
We created our impact statement (our theory of change) which says:
Charities create change; communications create change; charities that communicate better, create better change.
Finding our metrics
We identified a number of metrics we could use to demonstrate how we're making that impact. Here's our starter for three from last year's activity: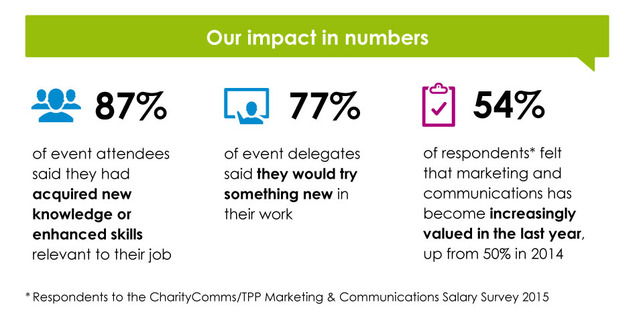 The first two stats feed directly into our theory of change: if we help charity communicators do their job (ie communicate) better, their organisations will create better change. The third links to our goal of making communications recognised and valued across the sector.
We're working on developing more metrics (look out for a possible impact survey coming your way).
Telling our stories
Alongside the numbers, we wanted to tell the stories about how CharityComms has helped our members, and how in turn that has positively affected their work and, ultimately, their organisation's impact.
You can read some of those stories here. For example, individual member Kat Lloyd told us:
Being a member of CharityComms makes me feel less alone in my role. It has helped me communicate with our network better and, as a result, is increasing my organisation's impact.
Barnardo's head of digital content and communities, Shaf Mansour, who has had experience of our peer support scheme as both mentee and mentor, says:
My CharityComms mentor has helped me show people at my charity the importance of digital. By doing this, we're more able to make sure we are there for vulnerable children and young people across all channels.
Shaf is now paying forward the benefits he received as a mentee by standing as a mentor to Beth Young at Contact the Elderly.
Measuring and communicating our impact as a charity isn't easy. It's taken a while just to get this far (day jobs have an uncanny knack of getting in the way of the important stuff), and there's plenty more to do.
But we hope that by starting to share our impact in numbers and on people, we're showing some of the ways CharityComms contributes to making the world a better place.
More like this​
An animated approach to our annual report (an innovative way to demonstrate impact from Keech Hospice Care)