As the world around us evolves, it's important to keep track of the changing landscape and understand how this affects your charity's service users. That way you'll stay relevant and on message. As communicators, it's important to continue reviewing your brand to make sure you're appealing to your target audience.
Brook, a charity supporting young people on sexual health and relationship issues, decided it needed to rebrand to keep up with the pace of change among 16-24 year olds. Growth in digital technology and the rise of social networking means young people now face different issues to what they did 10 years ago, says Brook's communications manager, Isabel Inman. She explains:
Technology has had a huge impact on young people, with over 90% of those aged 16-24 owning smartphones. They're facing complex issues, such as anxiety and low self esteem, trolling, online bullying and grooming. But it's not just technology that is having an impact on young people's lives. They're also more exposed to sexually transmitted infections (STIs) than other age groups.

We felt it was important to position ourselves as leaders in the sector to show young people that we do understand the issues they're going through.
A new chapter
In March 2017, Brook launched a new strategic plan — including new aims, objectives and a refined vision — to give young people access to high quality sexual health and wellbeing support. This includes everything from improving the education they receive, to increasing access to services such as home STI testing kits.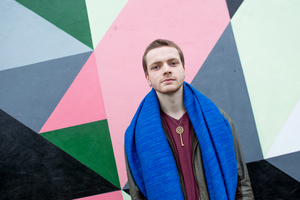 The strategy fed into the new brand which aims to "give a more trailblazing, relevant feel that appeals to young people". This includes a new logo, strapline and colour palette, which have been applied to the website and marketing collateral.
But it's not just about the look and feel of the organisation — it was important for the communications team to develop a new narrative for the charity to change the way people talk about it and the way young people perceive it. The team has developed new key messages to reflect the breadth of online resources it offers to young people.
The voices of young people
A range of stakeholders were surveyed, including Brook staff, trustees and other third sector organisations. But it was key that the new brand appealed to Brook's target audience of under 25s. Isabel says:
It can be a challenge to get a substantial group of young people together in a room if they're studying or working. We considered holding face-to-face focus groups, but decided we could reach more people by sending out an online survey which individuals could complete in their own time.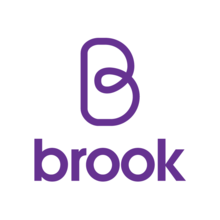 Isabel explains that the old brand led to a lot of confusion among stakeholders, including young people. The primary palette colour was blue with many people mistakenly believing the charity was part of the NHS. Feedback from young people showed they thought the charity had a "clinical" and "dated" look, and that messaging was inconsistent.
Taking on board the views of young people, the charity worked with a web design and marketing agency to develop the new brand. The young volunteers surveyed described it as "fresh", "dynamic", "clever" and "simple".
Placing young people at the core of the charity
Isabel explains that the old brand wasn't image led, and that to appeal to 16-24 year olds the new brand needed to be visual and eye-catching, and feature photos of young people. The charity worked with a photographer to set up photo shoots in East London and Bristol. These images are now a focal point of the website and social media channels. Isabel said:
We want to involve young people in everything we do and run an active participation programme at Brook

By featuring photos of young people in our communications, other people can relate to them. We're sending out a message to our target audience that we do listen to them and we're there to support them.
It also goes beyond imagery because words are important too. Brook is supporting young people to have a voice, by sharing their stories on the website and social media, and in campaigning work. The charity is also recruiting for another young person to join its board of trustees to help shape its work.
What's next?
There's still more work for the team to do. Later this year, Brook will be rolling out its brand across 18 clinics in England and Jersey, with waiting rooms being revamped and new external signage. Once this is in place, the charity will survey young people who use the clinics to ask for their views on the new brand.
To maintain the integrity of the brand, the team is recruiting two young volunteers to rebrand Brook's education materials, including adding the new logo to documents and changing the colour palette and design.
The Brook image bank will also be refreshed twice a year to keep photos fresh and capture the diversity of the young people the organisation works with, including those with disabilities. The charity is also working with the agency to continue updating the website — which has over 600 pages — and produce branded fundraising packs. Isabel says:
We're excited to see how the brand engages young people and increases awareness of the charity.