April saw the beginning of Crisis' 50th anniversary year. As an organisation, we chose to use this to refocus our goal to end homelessness.
To help us do this, we needed to refresh our brand, engage supporters behind our big ambition, and showcase this on a new website. The new website now acts as a hub for knowledge and engagement, helping us to build a movement with the power to end homelessness.
Communicating our purpose
Crisis launched in 1967 in response to the spiralling homelessness crisis. The founders, a group of activists and politicians, came together to do what they could to solve an urgent social problem. They never intended for the charity they formed to be a permanent one.
Our purpose to end homelessness – for individuals who are homeless now, and for society as a whole, for good. It drives Crisis and everyone who works here. We wanted to make that passion and focus louder and clearer throughout all our communications, on and offline, wherever and however people come into contact with us.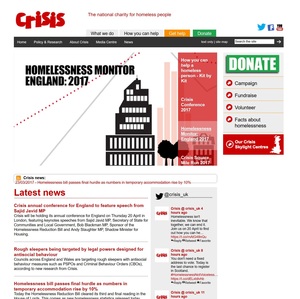 We know that we can't end homelessness on our own. We want to work with everyone who has the ideas, knowledge and expertise to help make it happen. We need to inspire the public to believe ending homelessness can be done, and to be part of it. Our new strapline, "together we will end homelessness" reflects both our ambition and our belief in the power of collaboration.
A new website
The vision for the new site is that it should support the goal to end homelessness by clearly explaining the causes and impact of homelessness, showing that it's something that could happen to anyone, and inspiring people to get involved. A big part of the refreshed brand is the imagery we use of people – which gets closer to their perspective and doesn't objectify them. The new website needed to showcase this. The site was also designed to support our clients (we call them members) with information about our services.
Our previous website was eight years old. It lacked personality, it fitted internal structures and was a graveyard for PDFs. Information was not well organised and the site did little to convey our passion and knowledge. As such, a big part of the project involved looking at information architecture and developing new narratives for homelessness which we could use across different sections of the site, especially thinking about audiences and the information they needed.
The project
Development of the new site took about nine months. A project board met every two weeks to keep track of progress. We did research with supporters, members and partners to develop strategic goals and personas to drive the development. The project team included the digital team (four members of staff), a project manager and a freelance content lead. We worked with an agency, DAM Digital, and consulted widely across the organisation.

We used an agile approach, developing our four key sections in two week sprints. Prior to each sprint we ran workshops with teams to identify needs, develop information architecture and consider best practice across the sector. The timescale was challenging as the sprints were back to back and the feedback loop was very tight. We just about managed to keep on top of this. Ideally we would have done all the planning before starting the sprints rather than trying to plan the next sprint, while doing the current one!
The agency were great at processing our feedback and didn't get frustrated when we changed our minds. This was a symptom of lots of things being up in the air. At the same time as developing the website, work was being done to refresh the brand. The photography style and tone of voice were in development and were only finalised in the last month before launch. A buzz of activity was also happening around plans for our 50th anniversary year. Colleagues were also very busy with work around the Homelessness Reduction Bill and all the activity to deliver Crisis at Christmas.
The main goals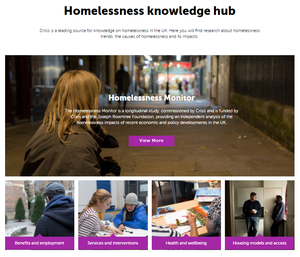 On 20 April, after lots of late nights and frantic efforts, the site launched on the day of our England conference which kicked off our 50th anniversary year. Now we've got a site that:
is mobile first
has a simpler donation process with suggested amounts
includes digital timetables for our Skylight Centres which members can customise
includes our new homelessness knowledge hub which brings together the latest and best evidence about the causes of homelessness, and the solutions to it, from the UK and around the world
clearly explains the experience and causes of homelessness
expresses the updated brand position, including new positive and strong photography
launches our 50th anniversary, plan to end homelessness and Everybody In campaign.
Everybody In aims to build a positive movement for change. Throughout the year, we'll be sharing real-life stories of homelessness which will help change opinions, raise awareness and ultimately, harness public support for ending homelessness.
The new website also gave us an opportunity to implement a new payment gateway to process all our online donations. Partnering with Worldpay, we have been able to improve the user experience for our supporters as well as save money on transaction fees. We also now offer PayPal as an alternative payment option and in the near future we will extend this further to Apple Pay and Android Pay.
We value feedback, please do tell us what you think of the new website, brand and campaign and join the Everybody In campaign.
---
Read more
All aboard – how to bring everyone with you when you redesign your charity's website