Dorothy Donor, our sector's beloved archetypal traditionalist supporter, was born before the Baby Boomers, her attitudes shaped more by our colonial past than the civil rights movements that followed it.
She has been the mainstay of the donor market for longer than most fundraisers have been working. But in five years' time, Dorothy's day will have passed, if it hasn't already. In Whatever Next? Public Engagement in 2022, we consider the key trends shaping supporters, the media, and the wider world. To thrive in 2022, you will need to understand and engage with emerging and new groups of supporters.
In 2022, Millennials, AKA Generation Y, will be turning 40, have got their kids into school, and begun the life-stage where they can enter the fundraising market in a serious way. This is where we're already seeing the biggest generational shift compared with older groups – in terms of attitudes, values and expectations. One communications director told us: "It's clear there's a difference in attitudes between over 70s and the Baby Boomer generation. That's even more true with the younger generation. They're not looking just to give. They'll volunteer, but they'll do it for their CV. There's definitely a shift towards asking: what do we get back if we give you our money or our time?"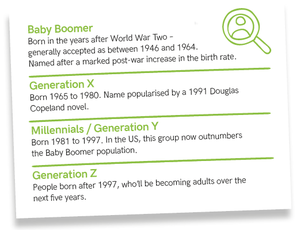 A word of caution: just because people fit into the same age bracket, obviously it doesn't mean they'll all share the same attitudes and values. Nothing beats getting to know your own current or potential supporters.
Playing the generation game
How far should you change what you do to reflect shifting demographics? For many charities, the bedrock of your mature donor market in 2022 will continue to be the tail end of the Baby Boomers – the youngest of whom will be turning 60 by this time – and Generation X, who'll be in their late 40s and 50s.
It's likely you've already experienced changes amongst your existing supporters, from Dorothy and the Baby Boomers to more demanding and less loyal Generations X and Millennials. Your engagement approaches have probably evolved too – to a certain extent. You're bound to be doing more digital, and trying to make it pay. You've likely developed new products and increased focus on demonstrating impact. But how much has really altered in the way you communicate with and engage supporters? If not much, you are not alone; according to the communicators we spoke to, most charities still view supporters purely as 'value generators', whose role is to help you carry out your work.
By 2022, that will have to change. The squeeze being felt now by charities – between rising supporter recruitment costs and declining retention levels – are, for some, forcing a fundamental rethink about engagement approaches. For one senior manager we spoke to, this goes to the heart of his charity's strategy:
We are not seeing retention levels these days that we would have expected in the past from our traditional supporters. We are recruiting now from a broader audience, but the retention levels are much poorer. We wonder if we have the whole proposition wrong.
Many charities are still raising most of their voluntary fundraising income thanks to the generosity of older, loyal supporters – whether through cash or regular giving, or legacies. But understanding the younger end of your audience, and the relationship they want to have with charities and causes, is your best preparation for 2022. As one communications head told us:
A lot of what we need to do to get it right now will also help us bring in future supporters.
This article is an extract from Whatever Next? Public Engagement in 2022 by Sarah Fitzgerald and Eden Stanley. Download the report for free.