A brand should work hard for an organisation, helping it achieve its goals. We define brand not as a static thing that is, but as an active thing that does.
What is an active brand and do you want one?
Active brands are different, using their logo more centrally to convey key messages about the brand. You can see this in our Bowel Cancer UK logo. These active brands can unify brand, marketing, fundraising and communications functions helping organisations make a greater impact.
An 'active brand' should work harder than the average brand – important for charities with limited budgets and low awareness. They put the logo, the most visible and consistently used brand asset, to work directly to help raise awareness or rally support.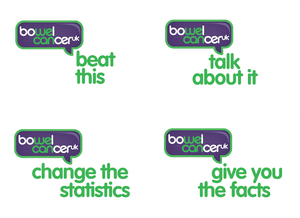 More definitive and purposeful than a strapline, an active brand relies on a compelling language system to underpin and carry the identity. They go straight to the heart of the mission and values of an organisation and double up as a campaign, meaning it's harder to go off-message and off-brand.
It's important for any brand to be backed by solid strategy that is aligned to the goals of the charity. However, an 'active brand' serves all the more to highlight this. If you're locking a message right into the identity itself, you want to be sure it's the one you want to be known for in the long run.

Turning Bowel Cancer UK into an active brand
We worked with Bowel Cancer UK, as one of several bowel cancer charities, to help understand its place in a competitive area.
We helped to uncover the central defining feature of the organisation: a focus on early diagnosis. This is why supporters love it, and what the families of people with bowel cancer care about.
Having defined the positioning so clearly, we built the active brand around it: we can beat bowel cancer. We can save lives.
In a hospital setting, it stands out as a positive message of hope – caught early enough, bowel cancer is the most treatable cancer.
We designed with longevity and distinction in mind. The identity is linked to the campaigning and awareness-raising strategy of the charity and should be useful for a long time as a message to motivate supporters and reach out to new ones.
Are you ready to embrace an active brand?
Active brands won't suit every organisation. If you can't decide on your priorities or they're likely to change in the short to medium term, it may not be the best option for you.
For campaigning charities, and those with a very tightly defined mission, they are perfect as they're low maintenance and pack a punch far beyond the cost of investment. No organisation with a truly active brand should face the problem of high awareness but low understanding of the cause – a fate suffered by too many charities.
—————————————————————————————————————————————-
Download a FREE copy of our Best Practice Guide: Branding Inside Out.